Overview
Cable sizing calculations made fast, easy and accurate.
Find cable sizes, voltage drops, fault loop impedance and maximum demand. Design electrical installations in compliance with standards.
Latest 2020 Version. Complies with AS/NZS 3008.1 and New Wiring Rules AS/NZS 3000:2018.
Features
Calculations:
Specify new cables or check existing installations are compliant.
Save results to project files and print reports with references to Standards including:
Active, Neutral and Earth cable size requirements (auto or user-selected)
Current-carrying (and spare) capacities and Operating temperatures
Voltage drops (V and %) and Circuit impedances
DC calculations
Maximum length of runs (m)
Short-circuit calculations
Earth fault loop impedance compliance
Circuit breaker and fuse sizes and settings
Conduit sizing
Cable scheduling direct to Excel™
De-rating factors via Wizard program
Maximum Demand calculations
Features and Benefits:
Fully complies with:

AS/NZS 3008.1.1:2017 – Selection of cables
AS/NZS 3008.1.2:2017 – Selection of cables (NZ)
AS/NZS 3000:2018 – Wiring Rules

Determine cable sizes and voltage drops according to installation conditions.
Use the Derating Wizard to apply appropriate de-rating factors.
Comply with earth fault loop impedance requirements of AS 3000.
Calculate most economical (and compliant) cable sizes based on:

Current capacity; and/or
Voltage drop; and
Short-circuit performance
Earth fault loop impedance
User can specify their own cable sizes from 1mm2 to 630mm2 and number of parallel circuits.

Save results to file and Print reports with references to Standards
Print detailed reports directly to PDF
Produce cable schedule reports in Excel™
Warning system – helps to avoid making errors
Demo Videos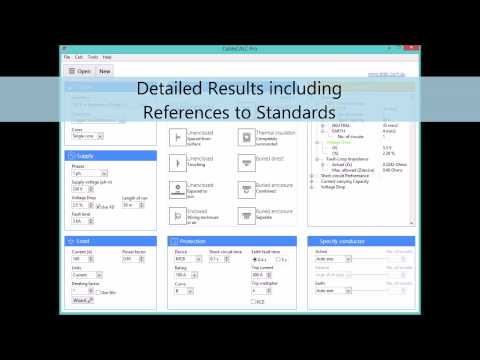 Cable Pro Cable Size, Voltage Drop & Maximum Demand Software
Cable Pro – Example Cable Size and Voltage Drop Calculations
Screenshots
FAQ
1. What are the benefits of the software?
Cable Pro (PC) will save you time and money by helping you choose the most economical cable sizes. Complex electrical calculations which by hand take hours or days to perform can be done accurately in minutes or seconds.
2. How easy is the software to use?
ELEK software is designed to be very easy to use. Some basic user input is required and then the software will automatically design in compliance with the standards.
3. Is the software suitable for solar applications?
Yes, the software includes a d.c. supply setting for calculations and for up to 1000 V d.c.
4. Can the software be used for high voltage?
Only up to 1 kV or 1.5 kV for solar (d.c.). For HV cables have a look at our other software Cable HV Software.
5. Is this software up-to-date with the latest Standards?
Yes with the latest Australian/New Zealand Standards and their amendments.
6. What if the Standards change?
The standards change occasionally, usually every few years. When the standards do change we will update the software within 6 months, which is the expected time for everyone to comply. The software itself will notify you during its use or you will be contacted via email of a new version being available for download.
7. How is the software delivered?
Via instant download. Link to download, activation code and invoice emailed immediately (24/7) after purchase.
8. How is the software licenced?
Each licence may be activated on up to two computers. A simple online 24/7 activation process is used. The software licence is easily deactivated by the user and moved between PC's.
9. How many computers can I use the software on?
You can use each licence on 2 computers. For example a desktop and a laptop.
10. What if I want to move a licence to another computer or if my computer crashes?
You can easily deactivate the licence activation under the Help menu yourself and move to another PC.
11. Are there any ongoing fees?
After the first year there is an annual fee to continue to receive updates and support (which includes unlimited licence transfers/deactivations).We regularly update our software, not just for new Standards, but to add new features and improvements.
12. What happens if I stop paying the annual renewal fee?
If you choose to opt out of annual renewals, your software will continue to work, but you will not be eligible to update to the latest software versions as they are released, nor contact support for assistance.  (Please keep in mind, that updates are essential if you want to stay up-to-date with the latest Standards.)
13. Do you provide technical support?
Yes, please phone us on 1300 093 795 or email support@elek.com.au. You can speak on the phone with our local technical support staff. We use an advanced email ticketing system ensuring all email enquiries are responded to in under 3 hours.
14. What are the system requirements?
Cable Pro (PC) is the latest Windows PC software suitable for desktop, laptop or tablet. Windows XP or later operating systems including Windows 8 and 10.
15. Can the software be used on a Mac?
Yes, using Windows on your Mac you can use our software and any other Windows software!  You can use our software on a Virtual Machine (VM).
Alternatively try our web-based version of Cable Pro – Click here.
Testimonials
​
"Cable Pro is the perfect tool for our business as we are often faced with time constraints due to workload. It's fast and very easy to understand. Reports can be quickly generated to allow comparisons with variations in the installation to give us the best result to suit our customers electrical supply/load demand."
Darren Simpson
Midas Electricians Pty Ltd
---
​
"Very impressed with the software, we have used several other packages but this one suits our needs the best."
Phil Hall
Director
HiTech Electrical Automation
---
​
"Cable Pro has grown through our office, beginning with our estimation department, with now all our project managers, estimators and site supervisors using it on a weekly basis. Cable Pro saves huge amounts of time identifying cable sizes, and conduit sizing as required. Reporting is easy, and the ability to customise our reports with our Company Logo is a huge benefit. The support staff at Electrotechnik are very helpful and have always been available when needed. I highly recommend Cable Pro for all Electrical Contracting companies."
Trent Petersen
Director
Cablewise Electrical & Communications Pty Ltd
---
​
"I run a small electrical consulting business and I need to be as productive as I can possibly be. This software (Cable Pro) has enabled me to cut out a huge number of manual calculations as far as maximum demand goes, especially for the larger jobs.The max demand tables are built in and I do not have to consult the wiring regulations all the time while I'm busy with the design. Furthermore, one can calculate cable and conduit sizing and voltage drop accurately. It also takes care of earth fault loop impedance calculations which are often vague and difficult to calculate and ignored by some. These calculations are saved with every job as part of my record-keeping."
André Koorts
Director
AK Consulting Ltd
---
​
"Excellent software. Excellent support. Highly recommended."
G. Littleford
Electrical Contractor
---
​
"This software helps us to be more competitive. We can now bid for large jobs in less time."
Jack Thaler
Electrical Estimator
Give our software a test-drive with our no-obligation free trial.
The following clients are using
Cable Pro (PC)