Standards AS/NZS 3008.1 and Wiring Rules AS/NZS 3000
Overview
Electrical cable calculations made fast, easy and accurate.
Find cable sizes, voltage drops, fault loop impedance and maximum demand. Design electrical installations in compliance with standards. Complies with Standard AS/NZS 3008.1:2017 and New Wiring Rules AS/NZS 3000:2018.
Features
Calculations:
Specify new cables or check existing installations are compliant.
Save results to project files and print reports with references to Standards including:
Active, Neutral and Earth cable size requirements (auto or user-selected)
Current-carrying (and spare) capacities and Operating temperatures
Voltage drops (V and %) and Circuit impedances
DC calculations
Maximum length of runs (m)
Short-circuit calculations
Earth fault loop impedance compliance
Circuit breaker and fuse sizes and settings
Conduit sizing
Cable scheduling direct to Excel™
De-rating factors via Wizard program
Maximum Demand calculations
Features and Benefits:
Fully complies with:

AS/NZS 3008.1.1:2017 – Selection of cables
AS/NZS 3008.1.2:2017 – Selection of cables (NZ)
AS/NZS 3000:2018 – Wiring Rules

Determine cable sizes and voltage drops according to installation conditions.
Use the Derating Wizard to apply appropriate de-rating factors.
Comply with earth fault loop impedance requirements of AS 3000.
Calculate most economical (and compliant) cable sizes based on:

Current capacity; and/or
Voltage drop; and
Short-circuit performance
Earth fault loop impedance
User can specify their own cable sizes from 1mm2 to 630mm2 and number of parallel circuits.

Save results to file and Print reports with references to Standards
Print detailed reports directly to PDF
Produce cable schedule reports in Excel™
Warning system – helps to avoid making errors
Demo Videos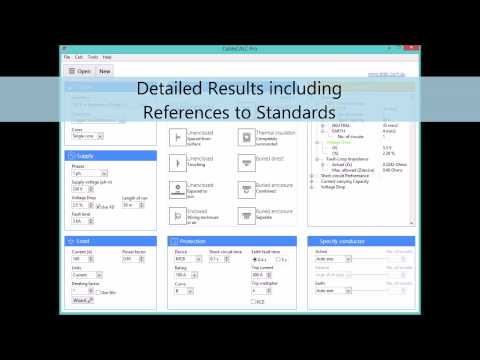 Cable Pro Cable Size, Voltage Drop & Maximum Demand Software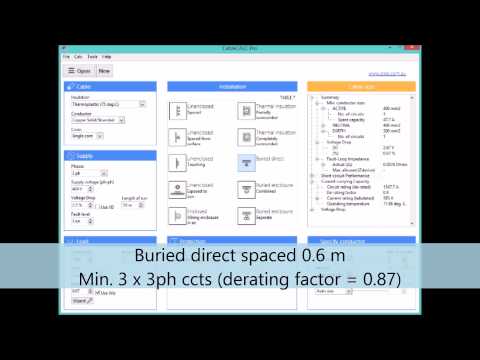 Cable Pro – Example Cable Size and Voltage Drop Calculations
Screenshots
FAQ
1. What are the benefits of owning the software?
Cable Pro will save you time and money by helping you choose the most economical cable sizes. Complex electrical calculations which by hand take hours or days to perform can be done accurately in minutes or seconds.
2. How easy is the software to use?
ELEK software is designed to be very easy to use. Some basic user input is required and then the software will automatically design in compliance with the standards.
3. Is the software suitable for solar applications?
Yes, the software includes a d.c. supply setting for calculations and for up to 1000 V d.c.
4. Can the software be used for high voltage?
Only up to 1 kV or 1.5 kV for solar (d.c.). For HV cables have a look at our other software Cable HV Software.
5. Is this software up-to-date with the latest Standards?
Yes with the latest Australian/New Zealand Standards and their amendments.
6. What if the Standards change?
The standards change occasionally, usually every few years. When the standards do change we will update the software within 6 months, which is the expected time for everyone to comply. The software itself will notify you during its use or you will be contacted via email of a new version being available for download.
7. How is the software delivered?
Via instant download. Link to download, activation code and invoice emailed immediately (24/7) after purchase.
8. How is the software licenced?
Each licence may be activated onto one computer. A simple online 24/7 activation process is used. The software licence is easily deactivated by the user and moved between PC's.
9. What if I want to move the licence to another computer or if my computer crashes?
You can easily deactivate the licence activations under the Help menu yourself and move to another PC.
10. Are there any ongoing fees?
After the first year there is an Optional fee to continue to receive Updates and Support (which includes unlimited licence transfers/deactivations).
11. Do you provide technical support?
Yes, please phone us on 1300 093 795 or email support@elek.com.au. You can speak on the phone with our local technical support staff. We use an advanced email ticketing system ensuring all email enquiries are responded to in under 3 hours.
12. What are the system requirements?
Cable Pro is the latest Windows PC software suitable for desktop, laptop or tablet. Windows XP or later operating systems including Windows 8 and 10.
13. Can the software be used on a Mac?
Yes, using Windows on your Mac you can use our software and any other Windows software!  You can use our software on a Virtual Machine (VM).
Reviews
"Simply brilliant software. I can't believe we went without it. Helps us in all our jobs now."
Rob Matley – Powertech Systems
---
"Very impressed with the software, we have used several other packages but this one suits our needs the best."
Phil Hall – HiTech Electrical Automation
---
"Excellent product and great value for money."
E. Vella – Electrical Contractor
---
"Very happy. Exactly as described. Highly recommended."
S. Whyte – Electrical Contractor
---
"Excellent software. Excellent support. Highly recommended."
G. Littleford – Electrical Contractor
---
"This software helps us to be more competitive. We can now bid for large jobs in less time."
Jack Thaler – Electrical Estimator
Click below to compare our package options.
from
$149.00
Give our software a test-drive with our no-obligation free trial. No credit card details required.
The following clients are using ELEK Cable Pro (AU/NZ)